Piracy in the News
Pirate attacks, ship wreck discoveries, movie announcements, tall ships, and more. Pirates and historical nautical concerns show up in the news quite often.
News media articles are given in order of appearance, most recent at the top.
March 2012
3/5/2012
Calif. Judge Says Backyard Ship Must Shove Off
By The Associated Press
A Southern California man who's been restoring a 72-foot antique ship in his yard has been ordered to move the boat. The Los Angeles Times says Sunday that Superior Court Judge Gregory Munoz issued a preliminary injunction last week saying 65-year-old Dennis Holland must move the boat before a trial to determine its long-term fate begins April 30. ...

3/4/2012
Newport Beach man must remove 72-foot ship from his yard
By L.S. NOW (Los Angeles Times Blogs)
A Newport Beach man who has been restoring a 72-foot wooden ship in his yard for six years has been ordered to remove the boat or risk going to jail. The court order is the latest development in a long-running conflict between Dennis Holland, some of his neighbors and city officials, who sued the 65-year-old resident in an effort to have the vintage ship removed ...
February 2012
2/29/2012
Nigerian Pirates Rob Cargo Ship, Kidnap 2 Crew
By The Associated Press (via NPR)
KUALA LUMPUR, Malaysia (AP) — Armed pirates robbed a cargo ship at anchor in a Nigerian port and kidnapped at least two crew members in the latest of several attacks off Africa's west coast, an international maritime watchdog said Wednesday. The International Maritime Bureau echoed a warning this week by the United Nations that pirate attacks off West Africa's Gulf of Guinea are becoming more rampant and violent. ...

2/22/2012
A Pirate's Perspective In 'Fishing Without Nets'
By All Things Considered (NPR)
A battered wooden skiff motors along the horn of East Africa. Onboard are a half-dozen men clutching AK-47s and debating whether they'll need to shoot. They are Somali pirates. Or rather, they're actors playing Somali pirates in a short feature film titled Fishing Without Nets. It tells the story of piracy off the coast of Somalia — from the perspective of the pirates — and it won the jury prize for short filmmaking at this year's Sundance Film Festival. ...
January 2012

1/19/2012
The Pirate Botanist Returns!
By NPR
Not a gentleman pirate. William Dampier was a doubloon-stealing, knife-flashing, boat-nabbing outlaw who preyed on Spanish frigates, who pillaged, robbed and behaved very, very badly. But he was also a great naturalist, one of the 17th century's best; a man who collected plants and animals and wrote about them during short breaks between piratical adventures. ...
October 2011
10/29/2011
Pat Croce reports finding Sir Francis Drake's sunken fleet
By KEYNOTER STAFF
Now that Pat Croce's quest to find the lost ships of Sir Francis Drake apparently succeeded this month, he wants to find Drake himself...
10/24/2011
Sunken treasure: Croce & crew uncover Drake shipwrecks missing for 400-plus years
Daily News
... he just discovered Sir Francis Drake's burnt shipwrecks off the coast of Panama - a monumental breakthrough in underwater archaeology that solves a 400-year-old mystery.
10/20/2011
Pat Croce lifts cannonball underwater on Drake Expedition
YouTube
n October 2011, Pat Croce headed to Portobello, Panama, in search of Sir Francis Drake and his ships. During exploration, Pat and crew found a scuttled shipwreck and the cannonball seen here. Here he is lifting it!
September 2011
9/19/11
Mock-pirate skirmish on the Delaware amid Seaport Festival
By Virginia A. Smith, The Inquirer Daily News
The fight pitted Philadelphia's tall ship, Gazela, against a weird assortment of enemies on the water, with some landlubbers thrown in - tall ships Kalmar Nyckel from Delaware and the AJ Meerwald from New Jersey; the cruiser Olympia; battleship New Jersey; Summer Wind, a Chinese junk based in Philadelphia; and even Fort Mifflin, whose shooters were on the Penn's Landing pier...
VIDEO of Pirate Battle at Sea
9/2/11
Ah, the pirate life: Tobacco, ale — and fine dinnerware
By Owen Jarus, Live Science
... From historical records scientists had known that by 1720 these Caribbean pirates occupied a settlement called the "Barcadares," a name derived from the Spanish word for "landing place." Located 15 miles up the Belize River, in territory controlled by the Spanish, the site was used as an illegal logwood-cutting operation. The records indicate that a good portion of its occupants were pirates taking a pause from life at sea...
July 2011
7/12/11
Galveston's tall ship Elissa no longer seaworthy Coast Guard rules the iron and steel hull is unsafe
By Harvy Rice, Houston Chronicle
GALVESTON — The official tall ship of Texas is in trouble. The iron and steel bottom of the three-masted 1877 Elissa is nearly rusted through in places, prompting the U.S. Coast Guard to declare that the vessel is not seaworthy. Officials at the Texas Seaport Museum in Galveston where the Elissa is berthed were astonished when a Coast Guard inspection earlier this year revealed the rotten hull. ... The museum is negotiating with a professional fundraiser and has established a system that allows $10 donations to be made by texting "ELISSA" to 50555...
May 2011

5/27/11
Treasure Hunt: Archaeologists Salvage Anchor From Blackbeard's Boat
Associated Press
MOREHEAD CITY, N.C. – Archaeologists recovered the first anchor from what's believed to be the wreck of the pirate Blackbeard's flagship off the North Carolina coast Friday, a move that might change plans about how to save the rest of the almost 300-year-old artifacts from the central part of the ship...
5/24/11
Ahoy Matey: Fox Eyes Pirate Limited Series From Ridley And Tony Scott
By Nellie Andreeva from Deadline Hollywood
EXCLUSIVE: While Jack Sparrow is frolicking on the big screen in the latest Pirates of the Caribbean movie, his brethren are becoming a hot commodity on TV. Just as FX and Fox International Channels teamed with producers Graham King and Gale Anne Hurd for 17th century pirate drama Port Royal, another pirate series is setting sail at Fox...

5/17/11
The Real Pirates of the Caribbean: What the Movies Got Wrong
By Word & Film
... The majority of the eighteenth-century pirates were working-class sailors: naval deserters, redundant merchant seamen, and former privateers. They were not the heroic, romantic characters portrayed in the movies by Errol Flynn or Douglas Fairbanks Sr., nor were they the affable rogues of the type depicted by Robert Newton in "Treasure Island"; nor did they have the zany charm of Johnny Depp's Captain Sparrow. They were hard men notorious for their foul language, heavy drinking, and casual violence...
April 2011

4/29/11
Divers find 'oldest shipwreck in the Caribbean'.... and treasure that could be worth MILLIONS
By Amy Oliver in Mail Online
Silver coins and jade figurines from 1500s discovered off Dominican Republic. A chance encounter with a fisherman has led one team of treasure hunters to discover what they believe is the oldest shipwreck in the Caribbean. And after only diving the site - located off the Dominican Republic coast - a handful of times, the team at Deep Blue Marine has unearthed some serious treasure. At the last count Captain Billy Rawson and his crew had uncovered 700 silver coins that could be worth millions, jade figurines and even a mirrored stone that was possibly used in Shamanic rituals...
February 2011
2/11/11
Rare 1823 Wreck Found—Capt. Linked to "Moby-Dick," Cannibalism - Lightning struck ill-fated skipper twice
Ker Than for National Geographic News
Linked to Moby-Dick and skippered by a man who (reluctantly) ate his own cousin, the whaling ship Two Brothers has been lost on a remote Pacific reef since 1823.
Now experts say they've found hard evidence of the ship 600 miles (970 kilometers) from Honolulu (map). ...

January 2011
1/27/11
Arab initiative essential to end Somali piracy
by Francis Matthew of gulfnews.com
Recurring piracy off the Somali coast has attracted worldwide attention in the last three years, but the Somali case is just one example of a global problem (even if it is the most glaring), and the frequency of the attacks highlights the vulnerability of the sea routes which are vital for world trade.
The International Maritime Bureau reports that from January to September 2010, there were 126 attacks off Somalia, compared to 85 in Southeast Asia, 25 near the Americas, 22 off the Indian subcontinent, and 11 from Nigeria.....
1/26/11
Piracy Challenges Maritime Security Off Somalia
by Cheryl Pellerin of American Forces Press Service
Pirates off the coast of Somalia are using bigger vessels to extend their criminal reach in a move that could prompt U.S. Navy forces in the region to intensify techniques for pursuing the lawbreakers, the top naval officer in the region said today.
Navy Vice Adm. Mark I. Fox, commander of U.S. Naval Forces Central Command and the U.S. 5th Fleet, told a group of defense reporters here that pirates have begun commandeer large merchant ships and use them as "mother ships" to put smaller boats into operation far from the coast and beyond the reach of the international forces arrayed against them.
"This is the first time we've seen persistent and increased use of mother ships -- up to eight 'pirate action groups' as we refer to them, disbursed throughout the region," Fox said, calling this development a "game changer." ...
1/26/11
PHL can be model for maritime best management practices to deter piracy — CMF offficial
Manilla Bulletin Publishing Corporation
MANILA, Philippines (PNA Feature) — Filipino seafarers, manning and shipping agencies and other stakeholders in the country's maritime industry, in tandem with Philippine government agencies, can be a model for best management practices (BMP) in international maritime shipping and thus contributing to the campaign against piracy and terrorism and to the safety and security of sea lanes.
1/25/11
UN envoy proposes 'piracy courts"
from Aljazeera
The UN's special adviser of piracy has called for $25 million to be spent on setting up special courts for suspected pirates in Somalia's semi-autonomous enclaves of Puntland and Somaliland, as well as in Tanzania.
Jack Lang, a former French culture minister, on Tuesday recommended that the specialised courts be set up over the next eight months to begin to try some of the 90 per cent of suspected pirates who are released because nowhere can be found to try them....
1/25/11
U.S. Ambassador's remarks to the UN, at a Security Council Briefing on Piracy Prosecution
... As the report notes, industry adoption of best-management practices and naval operations off the coast of Somalia reduce the rate of successful pirate attacks. Several mechanisms can certify such steps. For example, measures are reviewed as part of the process whereby a vessel's security plan is approved under the International Ship and Port Facility Security Code. Under other International Maritime Organization provisions, such as the International Safety Management Code, documentation that a vessel has implemented the appropriate best practices can be issued. We welcome assistance in further encouraging the adoption of such best practices, and we encourage nations to contribute ships to patrol the waters off the Somali coast, as several of our fellow Council members have already done ...

1/25/11
UN envoy calls for Somali pirate chief hunt
AFP
UNITED NATIONS — The international community must hunt the dozen Somali clan chiefs who run the pirate attacks on international shipping in the Indian Ocean, a UN advisor told the Security Council on Tuesday.
Amid mounting international concern over the attacks and hostage-taking, former French minister Jack Lang said "we need to tackle the force behind the pirates, those who order the pirates to carry out their attacks."...
1/25/11
Oil cargoes at risk from Somali pirates: shippers
by Jonathan Saul of Reuters
LONDON (Reuters) - Better equipped Somali pirates operating deep at sea threaten oil tankers in key waterways, and more naval firepower is "desperately needed" to combat the growing risk, shipping groups warned on Tuesday.
Seaborne gangs are making tens of millions of dollars in ransoms, and despite successful efforts to quell attacks in the Gulf of Aden, international navies have struggled to contain piracy in the Indian Ocean owing to the vast distances involved...
1/21/11
South Korea Makes Kim Chee Out Of Somali Pirates A daring high-seas commando raid frees 21 hostages.
by John Hayward of Human Events
Today was a bad day for pirates in the Arabian Sea. Somali pirates had taken over a freighter called the Samho Jewelry, operated by the Samho Shipping company of South Korea. In a previous incident, the Koreans paid millions in ransom to recover the crew of an oil tanker after seven months of captivity. This time, they sent in a commando team that killed eight pirates and captured five others. One of the 21 hostages was injured during the operation.....
1/19/11
Somali parliament blocks piracy bill
From Hiiraan Online: News and Information about Somalia
MOGADISHU — Somali lawmakers on Tuesday blocked a bill criminalising piracy which was proposed by the justice minister to pave the way for a local tribunal.
The bill finalised last week by the government is meant to beef up Somalia's legal arsenal in prosecuting and detaining pirates, who have so far been mainly tried abroad...
1/14/11
IMO needs Action plan from Piracy meeting
Editorial Blog By Clay Maitland
On the first Thursday of next month, the International Maritime Organization will host a ceremony to launch the Action Plan to promote 2011's World Maritime Day theme: "Piracy: Orchestrating the Response"...
1/14/11
Terry Rossio Will Script 'Pirates of the Caribbean 5'
By Sandy Schaefer of ScreenRant
'Pirates of the Caribbean' franchise screenwriter Terry Rossio has officially signed on to pen a fifth installment, which director Rob Marshall may return for as well....

1/11/11
HMS Victory rotting and being pulled apart under its own weight
By Jasper Copping of The Telegraph
HMS Victory is riddled with rot and being pulled apart by its own weight, maintenance reports of the historic ship have found...
1/10/11
Modern Day Pirate Ship, Made Surfer Style
By Rhea Cortado of The Costa Rica News
The last time Santa Teresa resident Thomas Ritchie launched his extraordinary wooden boat, Aurora Delfin, from the Pochoto rivermouth during the summer of 2009, he was a pirate in the open seas without any registered tags...
01/10/11
Shipowners blast anti-piracy effort
News and Views from Norway
Norwegian shipowners don't think their government is doing nearly enough to fend off piracy attacks at sea. The wave of modern-day piracy in the Indian Ocean, for example, is costing millions and putting crews in constant danger....

November 2010
11/16/10
Sky Set Sail for "Treasure Island" Shoot
Emmy award winning actor Eddie Izzard is to star in a remake of "Treasure Island" which will feature the 145-foot tall-ship 'Earl of Pembroke' ...
August 2010
8/20/10

Gold bar stolen from Mel Fisher Museum
BY ADAM LINHARDT, of The Citizen
Someone actually lifted the famous gold bar Wednesday evening from the Mel Fisher Maritime Museum. The 5-pound bar, from the 15th century Spanish galleon the Nuestra Seńora de Atocha that Fisher and his crew found off Key West in 1985, was stolen from its secure Plexiglas enclosure about 5:13 p.m., Key West police said...
8/8/10
Friendship finally ready for its first public sail
By Jesse Nankin of the Boston Globe
Friendship of Salem, after an arduous Coast Guard inspection, has received the final nod of approval to take the public sailing.
It's a major milestone for the Salem Maritime National Historic Site, which has been slowly working toward this goal since the 171-foot reconstruction of a late-18th century merchant vessel, first arrived in Salem in 1998.
8/10/10
Hastings breaks pirate world record
By Richard Morris of the Hastings & St. Leonards Observer
More than six thousand sea dogs helped Hastings smash the Guinness World Record for most pirates ever in one place. The previous best was little more than 1,800 and was held by Portland in the US...
8/6/10
Hastings pirates smash world record
BBC News
A total of 6,166 pirates, including some from as far away as Holland, took part in the record-breaking meet on Hastings beach in East Sussex. The previous record was set in Germany on 4 July, where a crew of 1,800 pirates assembled.
July 2010
7/12/10
Join Liverpool's pirate world record attempt at the Albert Dock
by Natalie Evans of Click Liverpool
Thousands of swashbucklers are needed on Sunday 18th July when the 2nd International Mersey Pirate Muster attempts to break the Guinness World Record for largest gathering of pirates in one place. The record (yes, it is a real one) was set at Brixham earlier this year, when 1,744 barnaclebacks and scurvydogs descended on the town...
7/5/10
Shedder me timbers: Jolly Reg's pirate-themed lair wins shed of the year (just don't ask him to walk the plank)
By Scott Warren, of Mail Online (Daily Mail UK)
It's often said a man's shed is his castle, but Reg Miller's backyard retreat would look more at home on the high seas.
Inspired by the film Pirates Of The Caribbean, the grandfather, of Southend-on-Sea in Essex, set about converting his shed into something Captain Jack Sparrow himself would be proud of ...
7/5/10
Pirates hijack ship in Red Sea, force says
By the CNN Wire Staff
Pirates have hijacked a Marshall Islands-flagged ship in the southern Red Sea, the European Union Naval Force Somalia said Monday.
The MT Motivator, a chemical tanker loaded with oil with a crew of 18 Filipino nationals on board, told authorities it was under small arms fire from a pirate attack in the northern Bab Al Mandeb area Sunday, the naval force said...
June 2010
6/25/10
New court in Kenya to focus on maritime piracy cases
By the CNN Wire Staff
A special court in Kenya has been initiated to hear maritime piracy cases, the U.N. Office of Drugs and Crime said Friday...
"With Kenya having taken on the largest number of suspected pirates for prosecution in the region -- 123 to date -- the new court in Mombasa is intended to increase trial efficiency in the system and provide a secure, modern environment suitable for piracy cases," the U.N. office said.
6/21/10
Pirates, mateys, wenches find booty in Vallejo
By David R. Baker, Chronicle Staff Writer
It takes an eye for detail and a tolerance for heat to spend hours wandering the Vallejo waterfront dressed as a pirate, in leather britches and a heavy black coat, with a fake sword through one's chest.

6/17/10
Somali pirates jailed by Dutch court
By the Guardian.co.UK
Five Somali pirates were sentenced to five years in prison by a Dutch court today in Europe's first trial for piracy at sea in modern times.
A judge in Rotterdam found the men, aged between 25 and 45, guilty on the 300-year-old charge of sea robbery for their part in a failed attempt to hijack a ship off the Somali coast ...
May 2010
5/11/10
Somali pirates guided by London intelligence team, report says
By Giles Tremlett, in Madrid for the Guardian.co.UK
The Somali pirates attacking shipping in the Gulf of Aden and Indian Ocean are directed to their targets by a "consultant" team in London, according to a European military intelligence document obtained by a Spanish radio station.

5/4/10
New pirate gathering record set in Devon
From Orange News
A new world record has been set in Brixham for the largest gathering of pirates. Exactly 1,722 men, women and children dressed in pirate gear for the record attempt, reports The Daily Telegraph. ...
April 2010
4/30/10
Pirate World Record Tomorrow
Bristol Rovers fans will be attempting to break a World Record at the Memorial Stadium tomorrow. Groups of Gasheads will be coming together before our match against Norwich on Saturday, to try and break the Guinness World Record™ for the largest gathering of Pirates, and we need your help...
*Because of Health and Safety issues associated with a football ground, real swords will not be allowed."
4/16/10
Bristol Rovers' fans in pirate world record attempt
BBC
Fans of Bristol Rovers are being urged to get into the spirit of a world record attempt in May.
The club is going to attempt to break the Guinness World Record for the most pirates in one place at one time.
The event is set to take place on the morning of the club's last home game of the season against Norwich on 1 May...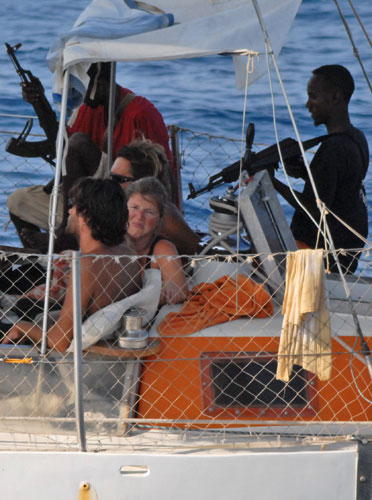 4/12/10
French commandos storm hijacked yacht Tanit
French yacht owner and skipper killed in gunfight as special forces storm vessel to free hostages from Somali pirates
4/1/10
Suspected pirates nabbed after skirmish with U.S. Navy ship
By the CNN WIre Staff
A group of suspected pirates was captured Thursday after attacking a U.S. Navy frigate in the Indian Ocean, according to a statement released by the U.S. Sixth Fleet.
The USS Nicholas reported taking fire from a suspected pirate skiff shortly after midnight local time west of the Seychelles, ...
March 2010
3/30/10
Disney bans fake breasts in movie, but not ride
By Sarah Tulley
Disney filmmakers are banning actresses who have breast implants from the new "Pirates of the Caribbean" movie, reported Register staff writer Colin Stewart in the In Your Face blog last week ...
3/29/10
Yemen: Pirates Take Cargo Ship Off Aden
Reuters
Pirates seized a cargo ship on Monday with 24 crew members off the port of Aden, Yemen. The vessel, the MV Iceberg 1, was boarded just 10 miles from the port and was being taken toward the Somali coast, said the Ecoterra maritime monitoring agency in Kenya.
3/25/10
Somali pirates widening attack area: US admiral
Reuters
Somali pirates are seizing ships as far as the Mozambique Channel and off the coast of India, extending their range further than they have until now, a senior U.S. admiral said on Thursday.
3/24/10
Autonomous Oceanic Modules Could Self-Assemble Into Pirate-Fighting Bases, Like Legos
Popular Science, by Jeremy Hsu
DARPA plans to build floating fortresses out of smart shipping containers, Lego-style ... The Tactically Expandable Maritime Platform (TEMP) would turn the standard ISO containers carried by cargo ships into modules that each serve a specific purpose, such as living quarters, command cells, comm shacks, or weapons stations.
Once deployed by cargo ship, the self-propelling modules would use low-level computer brains to assemble themselves into a larger structure. Researchers have already toyed with such autonomous technology in robot demos on land...
3/24/10
Private Guards Kill Somali Pirate For First Time
AP
In the first killing of its kind, private security contractors shot dead a Somali pirate in a clash that left two skiffs riddled with bullet holes, officials said Wednesday.
The killing raises questions over who has jurisdiction over a growing army of armed guards on merchant ships flying flags from many nations.
There's currently no regulation of private security onboard ships, no guidelines about who is responsible in case of an attack, and no industry-wide standards, said piracy expert Roger Middleton from the British think tank Chatham House...
3/24/10
Pirate killed in failed hijacking off Somalia, EU says
CNN
A pirate was killed and several others were detained after a security team thwarted an attack in waters off Somalia, authorities said Wednesday.
The incident happened Tuesday as a Panamanian-flagged cargo ship, the MV Almezaan, was headed to Mogadishu, said the European Union Naval Force...

3/22/10
Seaport takes the Lady for a spin
The Daily World, by Steven Friederich
The crew of the Lady Washington took the tall ship on a trial run Saturday to test out the new engine and the newly installed foremast...
3/22/10
Fishermen saved after pirates leave them to die
CNN
An Iranian fishing boat crew who were tied up, robbed and then left to die by Somali pirates have been rescued by a European Union naval force, officials said Monday.
The rescue was carried out Saturday by the Spanish warship Navarra, the EU's Naval Force Somalia said in a news release. The 13 crew members from the fishing vessel, named UAID 400, had been left without food, water or fuel after a pirate attack days before, it said...
3/21/10
Me real beauties: Cap'n Jack bans false breasts
The Sunday Times, by John Harlow
IF the predatory molls and purse-snatching lassies in the next Pirates of the Caribbean blockbuster seem a little deflated compared with their swashbuckling predecessors, blame it on Walt Disney's new ban on actresses with artificial enhancements...
3/21/10
Key West's Pirate Museum To Pull Up Anchor
CBS4.com
Former Philadelphia 76ers president Pat Croce will pack up his pirate museum in Key West this July and re-open it in St. Augustine in November across from a 17th century Spanish fort. The city's archaeologist says St. Augustine was attacked by pirates in 1586 and in 1668...
[Thanks to Donald Hood]
3/20/10
Pirates gather at Legoland Windsor for world record bid
From BBC News
Hundreds of pirates have gathered at a theme park in Berkshire in an attempt to set a new world record for the largest pirate gathering. Legoland in Windsor hosted the bid to break the current Guinness World Record of 1,600 pirates held by Alton Towers...

3/17/10
Somali pirates attempt attack on Dutch warship
By JASON STRAZIUSO, Associated Press Writer
Troops aboard the Dutch warship HNLMS Tromp fired warning shots Wednesday off the coast of East Africa as suspected Somali pirates in two small skiffs raced toward their warship, the EU Naval Force said.
After the pirates realized they had made what spokesman Cmdr. John Harbour called a "rather silly mistake," they turned around and fled. EU Naval Force personnel tracked down the two skiffs and a third suspected mothership, finding ammunition and rocket-propelled grenades on board, said Harbour, a spokesman for the EU Naval Force...
3/11/10
Sea dog from 16th century English warship to go on display
Telegraph (UK)
The only female crew member of The Mary Rose is to go on display after years of painstaking reconstruction - a two-year-old mongrel called Hatch.
The 16th century sea dog acquired the nickname after divers discovered her remains near the sliding hatch door of the ill-fated ship's carpenter's cabin, where she had lain since it sank in 1545...
3/05/2010
French warship team destroys pirate boats
CNN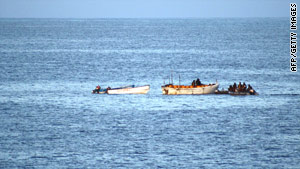 Twenty-eight suspected pirates were taken into custody Friday by the European Union Naval Force after a handful of failed attacks on fishing vessels in the Indian Ocean, the EU mission said.
In the first incident, the mission intercepted a mother ship and two skiffs early Friday in the southern Indian Ocean between the Seycelles and Mombasa, Kenya. The mission said the suspected pirates were in an area where an earlier attack had..
February 2010
2/10/10
Tepee Town site to become pirate attraction Tepee Town site to become pirate attraction
Historic City News
The St. Augustine local news desk has learned that Pat Croce is moving his Pirate Soul Museum from Key West to the former Christmas Shop and Tepee Town site on Avenida Menendez, according to the St. Augustine Report...
2/10/10
Penelope Cruz Joining Pirates of the Caribbean
Source:Heat Vision
Penelope Cruz is in negotiations to join Johnny Depp in the Rob Marshall-directed Pirates of the Caribbean: On Stranger Tides, reports Heat Vision.
... Cruz's character is expected to be "Sparrow's foil and equal in many ways."
...Shooting will take place in Hawaii this summer.
2/09/10
Group Tries to Save the Last Parrot Species Indigenous to Mainland U.S.
Courthouse News Service

TUCSON (CN) - The thick-billed parrot, a pine seed-loving, social bird with a call like human laughter, has been on the federal Endangered Species List for 36 years, but the government has never developed a recovery plan for the bird, environmentalists say in Federal Court.
2/06/10
A swashbuckling surgeon from history
by Danny Shaw, for The Evening News
Mark Kehoe's hobby is role-playing as pirate character Mission the Surgeon. Mr. Kehoe participates in re-enactments as a captured British Royal Navy surgeon forced into service. He has collected several antique surgical instruments and has researched the practice of surgeon stealing among pirates.
January 2010
1/11/10
Sailing past disabilities
by Claudia Calleja, TimesOfMalta.com
Every day for the past week, John Xuereb would wake up aboard a sailing boat and manoeuvre his wheelchair to the morning crew meeting where the daily tasks were assigned.
Whether it was watching out for other ships up on deck, assisting in the mess or helping with the cleaning, chores were rotated among the crew irrespective of the fact that some had disabilities...
1/6/10
Star Clippers Pulls Out Of Southeast Asia
Cruise Critic
Star Clippers is the latest cruise line to alter its itineraries because of the threat of piracy in the Gulf of Aden and the Indian Ocean.
For more than a decade, the tall ship operator has based a 170-passenger clipper ship in Thailand for a winter season but has announced that this winter will be the last until the piracy situation improves...
Although serious precautions have been taken in the past for Star Clipper's Indian Ocean crossings, the vessel could be particularly vulnerable to attack, as a relatively slow-moving, exotic-looking square rigger. Sailing vessels, albeit much smaller ones, have proven a target for pirates in recent months; British couple Paul and Rachel Chandler are still being held in Somalia after their yacht was hijacked by pirates in October last year...
1/6/10
Lawyers: State erred in Salter-remains case
by Betty Mitchell Gray, Washington Daily News
Lawyers for the state acknowledged in a special session of Beaufort County Superior Court on Tuesday that the state archeologist did not follow proper procedure in 1986 when the archeologist unearthed the remains of a man believed to be a member of Blackbeard's pirate crew...
1/2/10
Somali pirates hijack fourth vessel in a week
CNN
Pirates off Somalia have hijacked two more vessels in the Gulf of Aden, the European Union naval force said Saturday -- the third and fourth vessels they have captured this week.
The British-flagged Asian Glory was seized off Somalia late Friday, the naval force said. The nationality of the pirates was unclear, because the hijacking happened outside of the force's operations area, it said. ...
Also Friday, Somali pirates seized the Singaporean-flagged chemical tanker M/V Pramoni, also in the Gulf of Aden, the naval force said. The 20,000-ton chemical tanker was carrying a crew of 24 and was heading to Kandla, India, when attacked, the naval force said...
1/2/10
2 Ships Reported Hijacked Off Somali Coast
by The Associated Press
A cargo ship and a chemical tanker have both been hijacked by pirates in the perilous waters off the coast of Somalia, bringing to four the number of ships seized in the past week, officials said Saturday.
The multiple hijackings indicate that piracy remains a serious problem a year after an international naval armada began deploying off Somalia to protect shipping...
December 2009
12/30/09
A Record Year For Pirate Attacks
by Corey Flintoff, NPR News
Despite a year of beefed-up patrols by the world's strongest navies, piracy continues to be alive and thriving around the Horn of Africa and far out in the Indian Ocean. Analysts say the pirates appear to be better funded, organized and equipped.
On Sunday, Somali pirates released the De Xin Hai, a Chinese bulk carrier with about two dozen crew members that was captured Oct. 19. The Chinese government described the return of the vessel as a "rescue," but a Somali pirate claimed that he and his gang collected a $4 million ransom for the ship...
...But pirates still carried out a record number of attacks in 2009, according to the Piracy Reporting Center of the International Maritime Bureau. The center, based in Kuala Lumpur, said pirates attacked more than 200 vessels this year, and succeeded in hijacking at least 47 of them.
About a dozen ships are currently being held for ransom. They include a Greek-owned cargo ship and a British chemical tanker, both seized Monday by pirates...

12/28/09
Somali Pirates Seize 2 Ships, Hold 45 Crew Members
by The Associated Press
Somali pirates seized a ship carrying fertilizer from the U.S. in the Indian Ocean and a British-flagged chemical tanker in the heavily patrolled Gulf of Aden — the first merchant vessel to be hijacked in the gulf in nearly six months, officials said Tuesday...
...After the latest hijackings, pirates now hold 12 vessels and 263 crew members, Choong said. Pirates anchor their captured crafts near Somalia's shore in the pirate strongholds of Haradhere and Hobyo. International forces can't rescue the vessels without risking the lives of the crew, leaving negotiated ransoms as the only safe means of resolution...
...The U.K.-flagged tanker St James Park was the first merchant vessel to have been hijacked in the Gulf of Aden in nearly six months, Choong said. He said the ship issued a distress message Monday, seeking help after it was attacked...
...Three hours after the St James Park was hijacked a Panamanian-flagged carrier with 19 crew members was seized by pirates off the southern coast of Somalia. The ship is managed in Greece, he said.
Greece's Merchant Marine Ministry said the Navios Apollon was carrying fertilizer from the United States to India. It was taken 240 nautical miles northeast of Seychelles, it said. The crew was comprised of one Greek and 18 Filipinos, it said...
12/28/09
The largest Viking ship in modern times on the slipway
by Mikkel Thommessen, Havna.com
Article in Norwegian. For an imperfect English translation - click on first flag to the left above the title (the British flag, other translations also available)
In January 2010 started the construction of the longest, largest and best Viking ship built in modern times. The ship will be named Draken Harald Hĺrfagre.
The ship is approximately 35m long and 8m wide, displacement is about 70 tons. The ship will be built in oak, and it gets a 300 sqm large sails of silk. The sail will be delivered by Seglloftet on Jřa in Fosnes municipality. Seglloftet has 25 years experience in the subject and has supplied sails for many Viking Copy Scroll.
November 2009
11/18/09
Five new weapons the Maersk Alabama could use to foil pirates
By Ben Quinn, Christian Science Monitor
While armed guards have been credited with repelling today's Somali pirate attack on the US-flagged Maersk Alabama, a separate industry based on the development of nonlethal weaponry to protect ships is booming.
BCB International, a British firm, has developed a pirate-busting "stinger," a device designed to stop attackers by tangling their propeller up in ropes...
11/09/09
Ceiling Plank Removal Begins: Restoring the Charles W. Morgan
Mystic Seaport Videos on YouTube
Shiprights at the Henry B. DuPont Preservation Shipyard begin removing the ceiling planks from the hold of the Charles W. Morgan. With the ceiling planks removed, they can get to many of the ships frames that need to be replaced.
October 2009
10/21/09
Divers recover anchor from reputed Blackbeard ship
Associated Press
BEAUFORT, N.C. – An anchor from a shipwreck thought to be Blackbeard's flagship, the Queen Anne's Revenge, was so unstable that divers in North Carolina retrieved it Wednesday rather than waiting until next year. Divers raised the 4.5-foot, 160-pound grapnel, or anchor, from the wreck in the Atlantic Ocean near Beaufort on Wednesday and will display it Thursday at the North Carolina Maritime Museum in Beaufort. The anchor originally had four prongs, but now has 1 1/2...
10/16/09
Somali pirates seize Chinese ship with 25 crew
Associated Press at MSNBC
NAIROBI, Kenya - Somali pirates seized a Chinese cargo ship Monday with 25 people onboard, a naval spokesman for the European Union's anti-piracy force said, in the first successful attack on a Chinese vessel since the country deployed three naval warships to the region...
Same story is Also Here
10/16/09
Downtown Atlanta could get pirate museum
by Leon Stafford The Atlanta Journal-Constitution
Local businessman Richard Lea said he hopes to construct a facility dedicated to pirates ... The attraction, called "Pirate World," would include exhibits, trunks full of treasure and a recreated ship deck, complete with cannons and a steering wheel that visitors can turn to navigate the vessel through a virtual storm...
10/8/09
State's 'Pirates' ship too dirty for Calif. Washington's official state ship, the venerable Lady Washington, is no longer welcome in California. By Ross Anderson, Special to the Seattle Times
Despite its 4,442 square feet of sail power, the ship also employs a 60-year-old diesel engine that fails to meet California's air-pollution standards...
10/7/09
Top 5 blunders of Somali pirates: Somali pirates attacked a French Navy ship by accident Tuesday night. Five suspects are in custody. Christian Science Monitor, by Matthew Clark | Staff writer
Lately, those once fearsome Somali pirates have been behaving more like Keystone Krooks than savvy organized criminals.
Yesterday, they bit off more than they could chew by attacking a French Navy ship off the coast of their lawless country.
They thought it was a cargo vessel....
10/7/09
'On Stranger Tides' Author Tim Powers Discusses How His Story Fits Into A 'Pirates Of The Caribbean' Universe
MTV Movies Blog by Adam Rosenberg
Late last month, On Stranger Tides author Tim Powers confirmed that Disney does indeed plan to use elements of his book for the forthcoming Pirates of the Caribbean: On Stranger Tides. ...
... "About a week ago my agent wrote and said, 'You're now able to say that in fact Disney did option the book,'" Powers told the Los Angeles Times in an interview. "That happened a while ago, it'll be three years in April."
10/7/09
How Somali pirates hijacked the Lemaçons's sailing trip of a lifetime
The Observer, by Jason Burke
When the Lemaçons – Chloé, Florent and their son Colin – were captured by Somali pirates during their sailing trip of a lifetime, it triggered a rescue mission that went disastrously wrong. For the first time Chloé talks about life on the boat, the kidnapping – and the killing of her husband
September 2009
9/18/09
10 great places to swashbuckle down
Avast, ye mateys! Saturday is International Talk Like a Pirate Day (talklikeapirate.com), the perfect time to roam like a rebel. Colin Woodard, author of The Republic of Pirates, shares with Sarah Sekula for USA TODAY his favorite spots to don an eye patch and yell 'Arrr!'

9/7/09
Man Fires Cannonball Into Neighbor's House
KTLA, Los Angeles
UNIONTOWN, Pa. - A Pennsylvania history buff who recreates firearms from old wars accidentally fired a 2-pound cannonball through the wall of his neighbor's home. William Maser, 54, fired a cannonball Wednesday evening outside his home in Georges Township that ricocheted and hit a house 400 yards away. The cannonball, about two inches in diameter, smashed through a window and a wall before landing in a closet. Authorities said nobody was hurt. State police charged Maser with reckless endangerment, criminal mischief and disorderly conduct. No one answered the phone Friday at Maser's home. He told WPXI-TV recreating 19th century cannons is a longtime hobby. He said he is sorry and he will stop shooting them on his property, about 35 miles southeast of Pittsburgh.
9/6/09
NOT PIRATES AFTER ALL: Missing channel pirate ship carried Russian arms for Iran
By Mark Franchetti in Moscow and Uzi Mahnaimi in Tel Aviv,
London Times
... "Clearly the Israelis played a role in the whole Arctic Sea saga," said a Russian military source. "Peres used the incident as a bargaining chip over the issue of arms sales to Arab states, while Israel allowed the Kremlin a way out with its claims to have successfully foiled a piracy incident."
9/4/09
'24' director drifts to 'Sea Witches' film
Hollywood Reporter.com
Veteran "24" helmer/executive producer Jon Cassar has been tapped to direct "The Sea Witches," a Canadian feature about female pirates. The project, from Toronto producers Shaftesbury Films and MacRury Here Prods., has Malcolm MacRury ("Deadwood") writing the script, and Peter Meyboom, Scott Garvie, Christina Jennings and MacRury sharing producer credits. Producers are eyeing Brazil or Australia as possible locations, and will pitch the project at the IFP market in New York this month as part of the No Borders International Co-production Market to fill out financing.
9/3/09
Teaching the "Slave Ship" to Prisoners Inside Auburn Prison
By Marcus Rediker,CounterPunch Magazine
...While I was a visiting scholar at Cornell's Society for the Humanities, Noelle Brigden, a graduate student in the Cornell's Government Department, kindly invited me to meet with her prison class on "Pirates and the Political Order." I eagerly accepted...
9/1/09
Delhi concerned: Trained Pak men 'guiding' pirates off Somalia coast 13
Pranab Dhal Samanta, in New Delhi News
Authorities have confirmed the first case of alleged Pakistani involvement with Somali pirates in a revelation that has raised concerns here about a possible link between piracy and suspected terrorist groups.
9/1/09
Peek Inside a Pirate Crew at the Magic Kingdom
Disney Insider
"It's good to be goofy! It's the pirate mentality."
So says Dan Wise, and he ought to know. Dan is a Pirate Master at the Magic Kingdom Park, and it is his task to turn Guests into scurvy buccaneers ready to set sail with Captain Jack Sparrow himself. It's all part of The Pirates League experience - Guests can experience a transformation from their everyday selves to full-fledged pirates, with Pirate Names, makeover, hidden treasure to discover, and much more. Do you have the desire to explore the Spanish Main and unleash your inner corsair? Dan shared the secrets of The Pirates League with the "Insider," and we're prepared to brave the wrath of the pirate brotherhood and spill the beans to you.
As you've come to expect from Disney, The Pirates League is much more than a makeover and take home a picture – Guests enter a piratical world, with denizens who stay in pirate character and a ...
August 2009
8/27/09
Spielberg eyes Crichton's Pirate Latitudes for DreamWorks
By Jeremy Kay, Screen Daily.com
Steven Spielberg will produce and may direct the late Michael Crichton's unpublished novel Pirate Latitudes after DreamWorks Studios acquired film rights ... Crichton was writing Pirate Latitudes before his death last November. His assistant found the manuscript and HarperCollins will publish the novel on November 24, 2009. The story takes place 1665 as pirates plan to infiltrate Port Royal, one of the world's richest and most notorious cities, and raid a Spanish galleon filled with treasure.
8/14/09
Fort Pierce Museum Gets Lifeboat From Pirate Rescue
POSTED: 7:17 am EDT
FORT PIERCE, Fla. -- A Treasure Coast museum dedicated to Navy SEAL history will house the lifeboat in which a sea captain captured by Somali pirates was held and eventually rescued.
8/9/09
Pirates take over Beaufort
News-Times, Published: by JENNIFER ALLEN

"Fire in the hole!" echoed from voices in the crowd of more than 1,000 Saturday as pirate re-enactors shot cannons at the Meka II and Ada Mae in Taylors Creek from Grayden Paul Park during the second Beaufort Pyrate Invasion.
8/2/09
Navy's New Pirate Catcher
The U.S.S. Independence
[More information here: http://en.wikipedia.org/wiki/USS_Independence_%28LCS-2%29
8/1/09
Boat in Somali piracy case to be displayed in Fla.
The Associated Press
The National Navy UDT-SEAL Museum in Fort Pierce says it will permanently display the 28-foot lifeboat used in the hijacking of the cargo ship Maersk Alabama in April.
July 2009
7/30/09
Sunken Flagship Replica Destroyed By Fire
SKY News
A replica of the 17th-century flagship of the Dutch East India Company has been destroyed by a fire in the Netherlands. The three-mast Prins Willem had been a tourist attraction in the northern Dutch port of Den Helder since 2003. ...
7/30/09
DIscussion, photos and video of Prins Willem Fire on Eurobricks Forum

7/30/09
Fire guts replica of 17th-century tall ship
The Associated Press, The State, South Carolina's Homepage
AMSTERDAM -- Fire consumed a replica of the 17th-century flagship of the Dutch East India Company in the northern Netherlands on Thursday. ...
7/24/09
Explorers Find Ancient Shipwrecks
By ALESSANDRA RIZZO, Science News, World News
Archaeologists have found five well-preserved Roman shipwrecks deep under the sea off a small Mediterranean island, with their cargo of vases, pots and other objects largely intact, officials said Friday. The ships are submerged about 300 to 500 feet off Ventotene, a tiny island that is part of an archipelago off Italy's west coast between Rome and Naples. ...
7/15/09
Piracy doubles in first six months of 2009
ICC Commercial Crime Services (CCS)
Kuala Lumpur, 15 July 2009 – Piracy attacks around the world more than doubled to 240 from 114 during the first six months of the year compared with the same period in 2008, the ICC International Maritime Bureau's Piracy Reporting Centre (IMB) said today....
May 2009
5/17/09
Author defies idea that Blackbeard was English
By Jerry Allegood, Baltimore Sun Newspapers
Most historical accounts contend that the notorious pirate known as Edward Teach or Thatch was from Bristol, England. But Kevin P. Duffus said his review of archives and genealogical research indicates that Blackbeard was probably Edward Beard, son of a landowner in Bath in Beaufort County. ...
5/17/09
The Piracy Business: All The Headaches, But No Suits
by Gwen Thompkins, NPR's Weekend Edition Sunday
Pirates in Somalia say their work is all about business. And the business includes training new pirates, testing ransom money, and even drawing investors. Learn about a pirate called "Milksucker". (These modern pirates need to look to Blackbeard and Calico Jack for a lesson in picking nicknames). Listen to the report. ...
5/15/09
Pirate bones could be in that box, author says State rejects request for DNA test on 18th-century remains from Bath
by Jerry Allegood, The News & Observer
A Raleigh author is attempting to reopen the 274-year-old estate of a Beaufort County man he thinks was once a member of Blackbeard's pirate crew -- and whose bones may be stored in a box in Raleigh.
Kevin P. Duffus, a writer and filmmaker, says he needs access to the estate of Edward Salter, a landowner and merchant who died in 1735, to help confirm that the state has Salter's remains. With the backing of some of Salter's descendants, Duffus is seeking to have DNA testing done on bones that the state Office of State Archaeology recovered from a gravesite in Bath 23 years ago. ...
Battling Piracy Around The World
Home page for NPR's excellent 6 part series on modern piracy given below. Features an interactive map of pirate attacks. ...
5/9/2009
In Anti-Piracy Fight, Yemen May Be Part Of Problem
by Kelly McEvers, Morning Edition, NPR, 6th in a series
The government of Yemen, which is just across the Gulf of Aden from Somalia, is trying to portray itself as part of the solution to piracy in the region. But others say that Yemen — which is itself a failing state where sympathy for the Somali pirates runs deep — might be part of the problem. ...
5/8/2009
As Piracy Insurance Gets Pricier, Owners Try Guards
by Tom Gjelten, Morning Edition, NPR, 5th in a series
With twice as many attacks in the first three months of this year than in the same period last year, piracy has become a huge — and costly — problem for ship owners, especially those whose vessels go near Somalia. Ship owners, like all businessmen, look at the bottom line: Time is money, and when pirates attack one of their ships, owners typically just want to get the whole thing over with as quickly as possible. So they pay the ransom. ...
5/7/2009
Former Piracy Hot Spot Sees Huge Drop In Attacks
by Michael Sullivan, Morning Edition, NPR, 4th in a series
Five years ago, when people talked about piracy, it was Southeast Asia, not Somalia, that was getting all the attention. Back then, about 40 percent of attacks reported worldwide happened in or around the vital waterway between Malaysia and Indonesia known as the Strait of Malacca. Roughly one-quarter of the world's trade and about one-third of its oil pass through the strait each year, and pirates took advantage of the slow-moving, tempting targets with numbing regularity. Today, though, those attacks have fallen off dramatically, largely due to greater regional cooperation and increased resources to stop piracy. ...
5/6/2009
In Somalia, Piracy Is An Attractive Career Option
by Gwen Thompkins, Morning Edition, NPR, 3rd in a series
For nearly 20 years, Somalia has endured political chaos and bloodshed. The impoverished country's 10 million people are living without a formal economy or a functioning central government. But, known for their pragmatism, they survive. For many Somalis, choosing a line of business is the most practical decision of all. What works is right, and what doesn't work is wrong. That is why piracy has taken hold in the country: It's a multimillion-dollar industry that works. ...
5/5/2009
Pentagon Looks Beyond Force To Counter Piracy
by Tom Bowman, Morning Edition, NPR, 2nd in a series
A review of U.S. efforts to combat piracy on the high seas is nearing completion. Military options are under consideration, but experts agree that the ultimate answer to the piracy problem will also require political solutions — addressing issues such as poverty, lawlessness and instability in the pirates' countries of origin. ...
5/4/2009
An Old Scourge, Piracy, Is New Again
by Corey Flintoff, Morning Edition, NPR, First in a series
Piracy is flourishing off the coast of Somalia, despite an intensive effort by an international fleet of warships to protect the busy shipping lanes between Africa and Asia. What once seemed an archaic crime is back and putting a serious strain on the world's purse strings. ...
April 2009
4/30/2009
Behind The Business Plan Of Pirates Inc.
by Chana Joffe-Walt, All Things Considered, NPR
... the issues of criminality and the potential for violence aside, a closer look at the "business model" of piracy reveals that the plan makes economic sense. A piracy operation begins, as with any other start-up business, with venture capital. ...
4/30/2009
Maersk Alabama captain says ships should have armed officers
Man held captive by Somali pirates testifies before the US Senate as Congress considers ways to combat piracy
Associated Press
Commercial ships working pirate-infested waters should be protected by an armed corps of senior officers backed by the government, the captain of a US ship attacked by pirates told Congress today as he called for all to operate under a clear chain of command. ...
4/30/2009
Rescued Captain Testifies In Congress
All Things Considered, NPR
Capt. Richard Phillips who was taken hostage from his ship by pirates and later rescued by U.S. Navy Seals testified Thursday before the Senate Foreign Relations Committee. He spoke about the experience and what he thinks the U.S government can learn from it. ...
4/25/2009
The Profitability Of Piracy
Weekend Edition Saturday, NPR
Host Scott Simon explores the intricacies of the pirate economy with Dr. Peter Pham, director of the Nelson Institute for International and Public Affairs at James Madison University in Harrisonburg, Va. ...
4/21/2009
Prosecution Of Pirate Raises Many Questions
All Things Considered, NPR
The surviving Somali pirate from the thwarted hijacking of the Maersk Alabama was to be charged Tuesday in U.S. federal court. Stephen Rademaker, former assistant secretary of state for international security, talks about how the government might makes its case. ...
4/16/2009
Somalia spoils fun for make-believe pirates
By MOISES MENDOZA Copyright 2009 Houston
the recent worldwide furor over real-life Somali pirates raises a pressing question: Should people really be romanticizing murderous pirates — even old ones? ...
4/15/2009
Ron Paul: Bring back private pirate hunters
Agence France-Presse
Rep. Ron Paul, a Republican, and a handful of conservative theorists say it's time the U.S. Congress used the technique, pioneered by European powers in the 18th century as a way to wage naval warfare cheaply. ...
4/13/2009
You are being lied to about pirates
By Johann Hari, San Francisco Bay View
Behind the arrr-me-hearties oddness of this tale, there is an untold scandal. The people our governments are labeling as "one of the great menaces of our times" have an extraordinary story to tell - and some justice on their side. ...
4/5/2009
Hampton Roads pirate crew starts work on its own boat
By Mark St. John Erickson
John Glass ... can often be found alongside other members of the living history group known as Blackbeard's Crew, leading them in their attempt to build their own pirate ship.
Measuring nearly 50 feet from stem to stern, the two-masted Luna is no small wooden boat — and its transformation from a decaying 20th-century yacht into a convincing replica of an early 18th-century topsail sloop is no small endeavor. But with lots of sweat and a healthy measure of public generosity, Glass and his comrades hope to have its frames rebuilt, its lines reshaped and its rigging raised in time to help Hampton celebrate its 400th birthday in 2010. ...
March 2009
3/23/2009
Studying the Culture of Piracy
By Marisa Taylor, Wall Street Journal Blogs
University of Chicago anthropology professor Shannon Lee Dawdy has introduced a new course this spring called "Intensive Study of Culture: Pirates," and student interest has been avast — er, vast — she had to expand the class size from an original maximum of 90 students to 150. ...
3/19/2009
U of Chicago offers pirate class
ABC7News
The University of Chicago is offering a course called "Intensive Study Of A Culture: Pirates." More undergraduates registered for the anthropology class than almost any other course for the spring quarter. ...
3/9/2009
Arrrgh mateys, shipwreck could be pirate vessel
State archaeologists get their hands on artifacts from a mysterious shipwreck
By John Pope
Nearly 200 years ago, a ship sank in the Gulf of Mexico, about 35 miles off Louisiana's coast. It stayed, undiscovered, on the seabed, about 4,000 feet below the surface, until 2002, when a crew happened upon the wreckage while checking out a pipeline. ...
3/9/2009
Pirates Past and Present Appear in N.C. Museum Exhibit
Monday, March 09, 2009
FoxNews.com, Associate Press
Blackbeard has a starring role in a new pirate exhibit at the North Carolina Museum of History.
February 2009
2/3/2009
Treasure Hunters Say They've Found a 1744 Shipwreck
New York Times
Exciting discovery of the H.M.S. Victory, with tons of gold and maybe more than 100 cannons.

January 2009
1/26/2009
US to hand over any suspected pirates to Kenya
Guardian.co.UK
1/19/2009
Navy bid to scuttle the curse of pirates
British Press Story from 'The Sun' Page 9
A ROYAL Navy warship will today join a new international team of pirate hunters. HMS Portland has been ordered to track down gunmen before they can hijack merchant ships.
Once pirate boats have been identified , Lynx helicopters filled with snipers will be scrambled from the Type 23 frigate. The Royal Marines will then board for close combat with the pirates - who use machine guns and grenade launchers to overpower crews then blackmail ship owners.
The US-led mission expected to involve ten nations - is an assault on chaos in waters off the Somali Coast. Pirates pocketed Ł100 million in ransoms last year after more than 100 attacks. Previously, navies were unable to arrest the marauders due to international law. But a series of agreements are being brokered with African governments such as Kenya who have agreed to try to lock them up.
American Vice Admiral Bill Gortney said "We have to make it unpleasant to be a pirate - we want to capture them."
[Thanks to Chris Walsh for sending us this story -- Jamaica Rose]
1/17/09
Death at sea: how pirates' triumph ended in disaster
Five drown after collecting ransom, but rewards are too great to deter hijackers
Guardian.co.UK
1/12/09
Solving the problem of piracy
Radio program THE WORLD, PRI
How piracy has been nearly wiped out in the Malacca Straits, and how these lessons might apply to Somalian piracy.
1/11/09
Pirate's body washes ashore with $153,000 in pocket
Continuing from the two stories below
Guardian.co.UK
1/11/09
Pirates drown after supertanker freed
Continuing from the story below: 5 pirates and the millions of dollars were lost in rough waters.
TV New Zealand
1/10/09
$3M Ransom Parachuted to Tanker Pirates
PIRATES ''GOLDEN PARACHUTE' DROP
AIRPLANE DELIVERS $3M RANSOM AT SEA
5 SOMALI HIJACKERS DROWN IN GETAWAY
By Todd Venezia
Somali pirates scored a haul of booty yesterday that would have shivered the timbers of Long John Silver, when they were paid a $3 million ransom to release a Saudi supertanker they hijacked last year.
1/9/2009
Prosecuting Pirates: No More Walking The Plank
by Corey Flintoff, NPR
Nations that have captured suspected sea robbers now have to decide what to do them. The problem is that no nation seems to want to take on the cost and complication of prosecuting pirates.
1/9/09
Hijacked Saudi oil tanker Sirius Star on the move
Guardian.co.UK
1/6/2009
French Warship Thwarts Pirate Attack
Morning Edition, NPR
On New Years Day, a French warship, the Premier Maitre L'Her, captured eight alleged pirates in their skiffs as they tried to board a Panamanian-flagged cargo ship.
December 2008
No date
Pirate threat prompts Hapag-Lloyd to evacuate cruise ship near Somalia
USA Today Blog

No date
Cruise ship passengers describe 'pop, pop, pop' of gunfire as pirates attacked
USA Today Blog
12/06/08
Pirates walk the plank as pixies take over at Disneyland
SignOnSanDiego.com
12/06/08
Disneyland Drama Centers on Jack Sparrow, Pixies, Flashing
NBC News
12/06/08
Girls Prompt Disneyland to Can 'Jack Sparrow' Actors
KTLA News
12/06/08
Shipwreck clues could clear Blackbeard of sinking his ship to swindle his crew
Telegraph.co.uk
12/06/08
Avast me hearties, thar'll be a pirate fest
SignOnSanDiego.com
12/04/08
Cruise passengers describe "cheeky" pirate attack
The Associated Press
November 2008
11/22/08
'We consider ourselves heroes' - a Somali pirate speaks
Guardian.co.UK
11/21/08
Beating the raiders
How the Malacca straits were reclaimed
Guardian.co.UK
11/20/08
Efforts to tackle epidemic hindered by lack of internationally agreed definition
Guardian.co.UK
11/19/08
Piracy and ransom payments: Risky business - safe transactions
Guardian.co.UK
11/18/08
Life with the pirates of Somalia
Fascinating Photo gallery
Guardian.co.UK
May 2008
5/20/08
Great Guns on Alderney! The Alderney Elizabethan Shipwreck Gives Up its Guns
PR Web
February 2008
2/28/08
Brief Encounters: Matthew Stackpole - History in the making
By CK Wolfson, of The Martha's Vineyard TIMES Online
He was all by himself when he went outside to dance - to leap and jump actually - in the field that surrounds his West Tisbury home. Matthew Stackpole had just received word from Mystic Seaport that they wanted him to join them in helping to restore the last surviving wooden whaling ship, Charles W. Morgan. So it was with exuberance that he went outside to dance to the elusive melody of things having gone exactly right...


Events / Crews / Merchants / News / Books / Subscribe & Swag / Rogues Gallery / Movies / Tall Ships / Ports o' Call /Email/ Buccaneers for Hire/ Contact Us
Copyright © 2008 "No Quarter Given". All world-wide and intergalactic rights reserved. Year 1692 Compliant.
Now, we know yer all pirates anyway, but it's not a good idea to go stealin' from other pirates. So don't go "borrowin'" any of our documents, letters of marque and reprisal, or artwork, without permission. Bein' pirate central, as it were, you are all beholdin' to protect the good name of "No Quarter Given".
Stay out of the water.
No lifeguard on duty!
Trespassers will be keelhauled to the extent of our rope.
Keep starboard! No docking here on first and third Tuesdays!
Children left unattended will be towed away at owners expense.